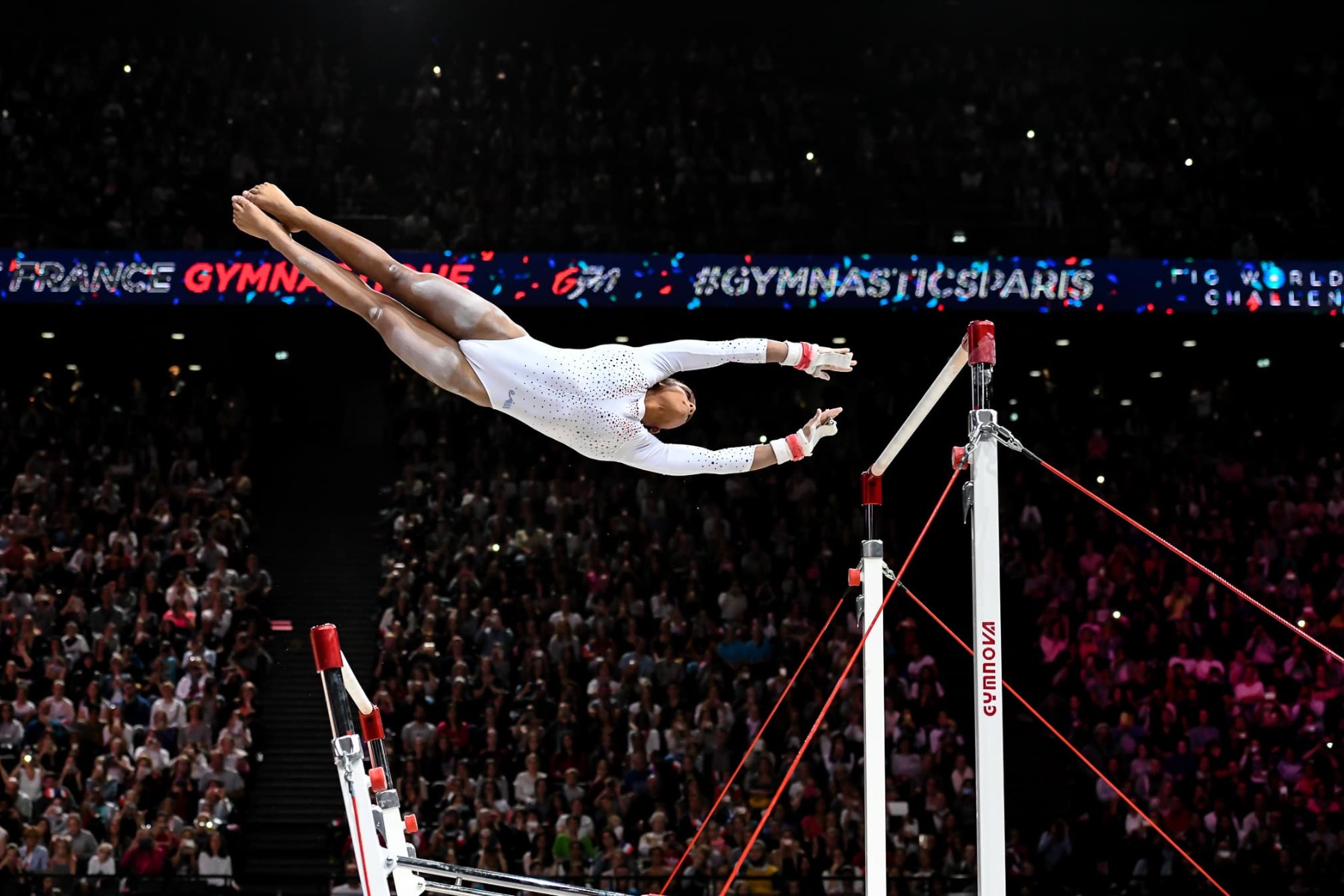 A range of complementary brands
GYMNOVA has been a specialist in sports equipment since 1978 with its brand Gymnova, the world leader in gymnastics equipment. Its international expertise enables it to equip the biggest competitions including the Olympic Games and World Championships.
Because we know that expectations and needs for sports equipment vary, we have built a rich portfolio of diverse and complementary brands. We want to be able to offer a choice to suit all needs and ambitions around the world.
We want to be able to offer a choice to suit all needs and ambitions around the world.

Sharing your passion for gymnastics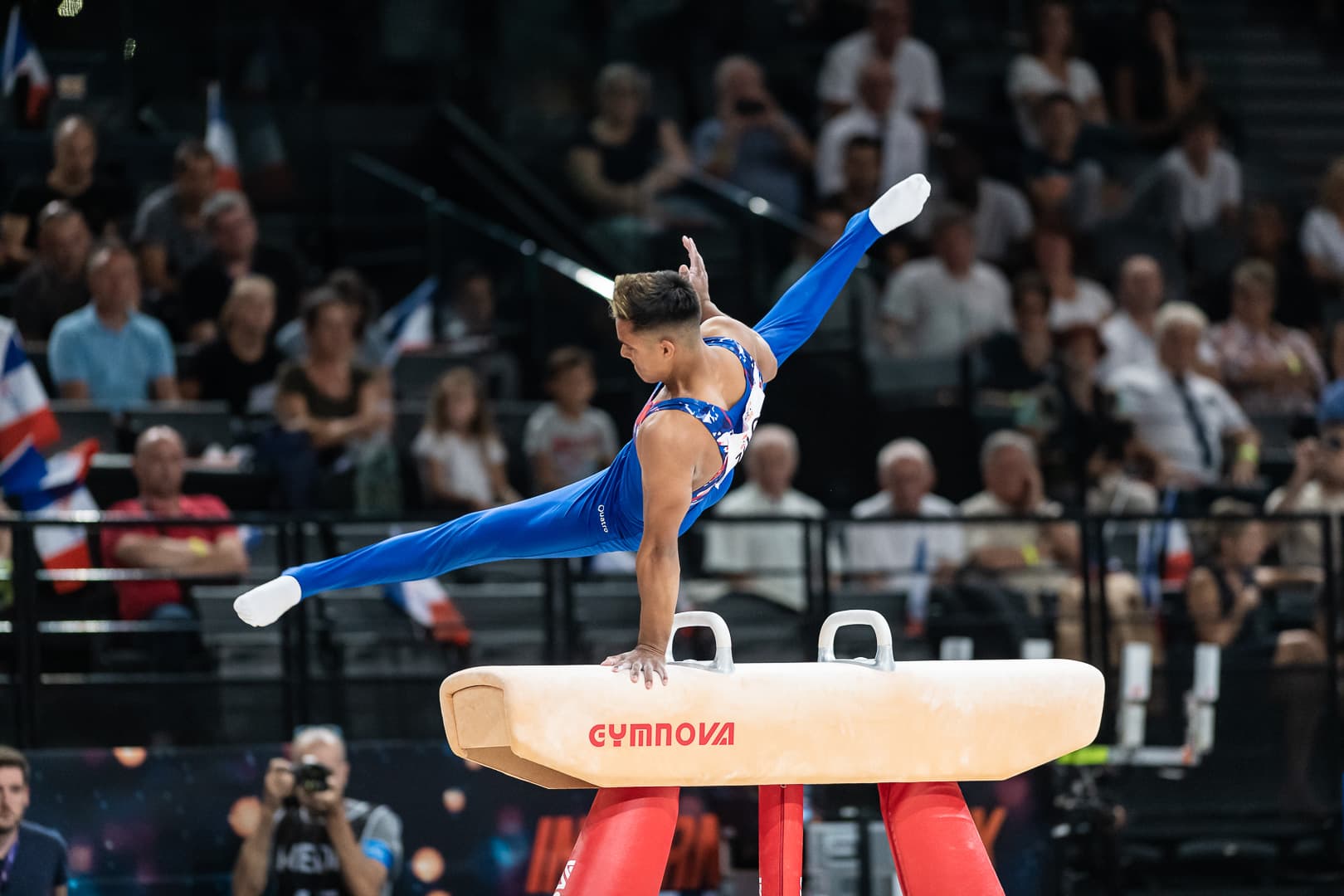 GYMNOVA is part of the French ABEO Group. ABEO has carved a reputation as a world-leading supplier of sports and gymnastics equipment.
In the 45 years since it was created in 1978 by two gymnastics coaches and enthusiasts Gérard Barbafieri and Henri Miceli, GYMNOVA has grown to become the leader in its specialist field.
The Marseille-based company currently employs around 60 people and is supported by a network of distributors and subsidiaries in the UK, Belgium and Switzerland to drive its international development.
Partner of all major events
GYMNOVA specialises in manufacturing, designing and marketing sports equipment for artistic and rhythmic gymnastics, aerobics, team gym and acrobatic sports. The company currently offers an end-to-end range of equipment, from baby gyms to competitive gymnastics, as well as training equipment, while actively helping push back the boundaries in the sport's various disciplines. The company's products are mainly designed for French and international gymnastics federations, sports clubs and schools.
GYMNOVA currently enjoys excellent visibility through its presence at such major events as the Olympic Games, the World Gymnastics Championships and the European Gymnastics Championships.
GYMNOVA is the brand name under which the following are distributed and installed:
All products approved by the International Gymnastics Federation (FIG) and required for the disciplines under the FIG's authority.
Specific training products to enhance technical performance while reducing physical fatigue and injury in a safe environment.
School and learning equipment.

The fun way to discover gymnastics
After noticing a lack of equipment for teaching and introducing newcomers to the world of gymnastics, coaches Gérard Barbafieri and Henri Miceli developed a range of learning equipment for their club back in 1973.
Empowered by their immediate success and their unbridled enthusiasm for gymnastics, they founded Educ'Gym in 1976, thereby laying the foundations for the future GYMNOVA.
Educ'Gym has evolved over the years as the company has continually embraced new practices and aligned with the latest safety standards to meet all its users' needs. Educ'Gym products are currently divided into five ranges:
Foam modules
Wooden range
Mini learning equipment
Springboards and trampolines
Mats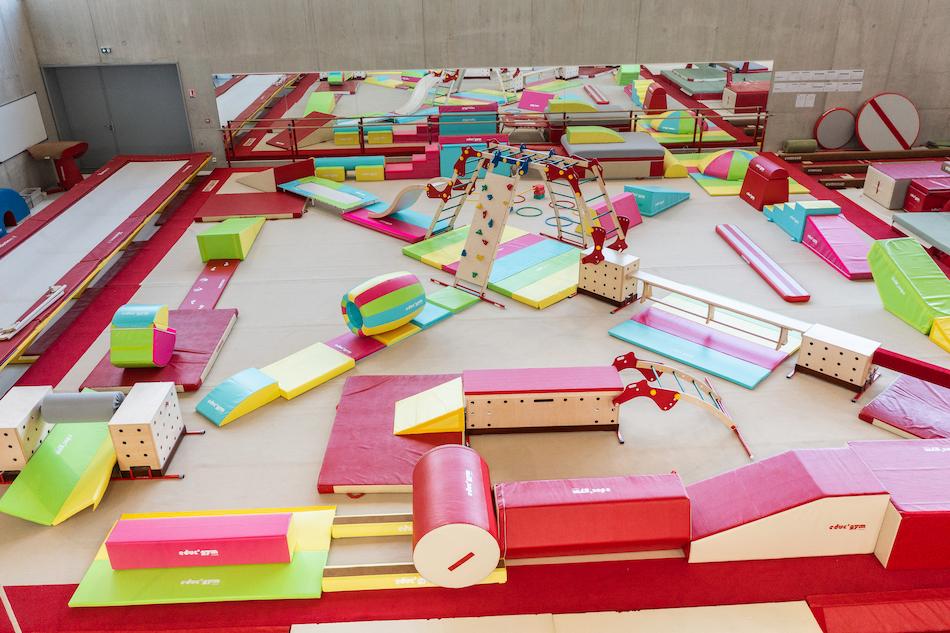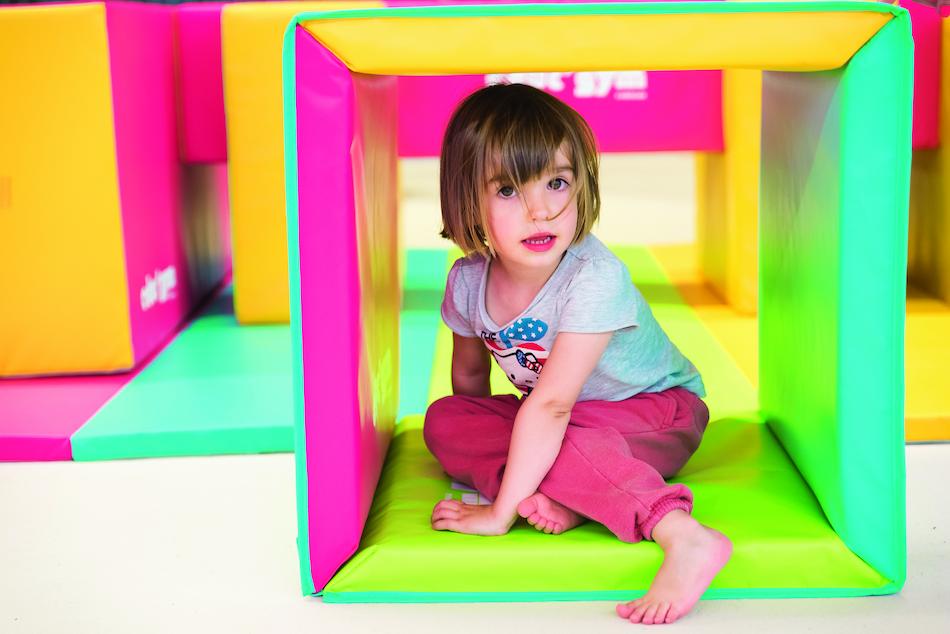 Educ'Gym also offers a line of equipment for baby gyms as well as modules to develop psychomotor skills. Each range has been designed with a specific motor skill in mind, and the products can be used to create an infinite variety of fun layouts and courses to stimulate learning in young users.
Whether improving simple everyday actions, honing gross motor skills or developing spatial awareness, our products for young children are the ideal way to acquire many different skills and abilities.
As a GYMNOVA brand, gymnastics is obviously an integral part of Educ'Gym's DNA. The different ranges have been specifically masterminded to allow the youngest users to take their first steps in the world of gymnastics and experience their first thrills and sensations. Children can learn many different skills, such as rolling, jumping, moving in space and dealing with heights.
The youngest users can play and learn in safety thanks to the phthalate-free materials used in the brand's products (foam, etc.) and the extensive selection of mats. Educ'Gym is wholly committed to developing equipment that gives children the necessary confidence and sense of safety to have fun and learn new abilities. The Educ'Gym brand's ranges are the ideal solution for creating courses and situations that are conducive to improving motor skills in the youngest users.

The multi-sports expert for schools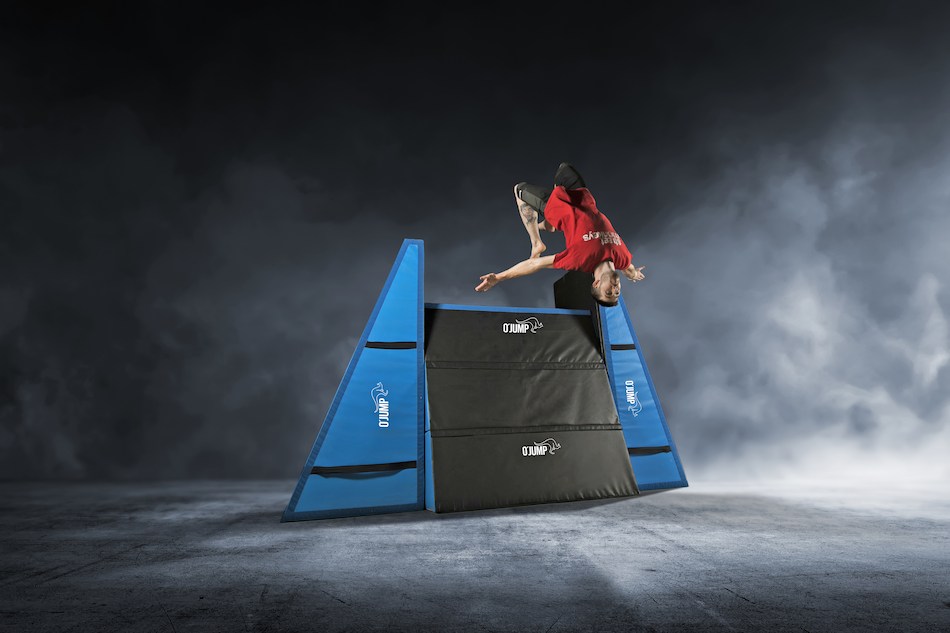 In September 2009, GYMNOVA was granted exclusive distribution rights for the O'JUMP brand.
Multi-sports expert O'JUMP specialises in gymnastics and landing areas. The brand can draw on its expertise to deliver premium quality equipment to all schools and sports clubs, irrespective of their proficiency level.
The world-renowned O'JUMP brand has also been used for several wrestling competitions, such as the London 2012 Olympic Games.
The French brand can harness its expertise to fulfil any request, whether users are looking for standard or bespoke equipment, by offering a wide array of solutions for each discipline:
Gymnastics
Whether for training sessions or school use, O'JUMP has developed a dedicated collection of gymnastics apparatus for physical and sports activities in schools. A specific range of foam modules, mats and plinths has also been added to the collection.
Urban gymnastics
Parkour trailblazer O'JUMP has stayed ahead of the innovation curve by developing foam modules specifically designed for indoor training sessions. Blocks, wedges and tricking hoops can be combined to create a wide variety of courses imitating the obstacles typically found in urban and natural settings. The range also includes freestyle training bars for users to practice and develop their aerial skills.
Athletics
O'JUMP, an expert in landing surfaces, has developed a range of landing area systems specifically for the high jump, which can be used in clubs or school environments. The folding and one-piece landing areas offer extreme comfort and are perfectly suited to creating perfectly safe landing surfaces.
Wrestling
Drawing on its experience in Olympic-level competitions, O'JUMP has designed a range of wrestling mats and protective covers delivering superior comfort and offering a uniform and dynamic combat area. The UWW-approved wrestling mat has set the gold standard ever since it was used at the London Olympic Games. Schools and clubs can use the wide range of mats to create the perfect wrestling training session and competition.
Climbing
O'JUMP offers a bespoke landing area solution geared towards the needs of each climbing room. In case of a room with artificial climbing structures, safe conditions can be guaranteed for all climbers with the O'JUMP line of wedges, blocks and mats. The brand's products comply with the requirements of the NF-P90-311 or NF-P90-312 standard and can be used to create a landing area that is tailored to the room and which is suitable for both spotters and climbers.
Protective padding for multi-sports areas
O'JUMP's protective padding solutions are the ultimate all-rounders. They can be fully personalised and are suitable for protecting walls, posts and corners, whether indoors or outdoors. They are ideal for public premises (shopping malls, schools, hospitals) and sport spaces (combat sports, gymnastics, team sports, etc.). O'JUMP equipment can also be found in ninja warrior parks to improve safety for athletes who have come to pit their skills against the course.
All O'JUMP products are made from a phthalate-free PVC cover with a class M2 fire rating. Most of our products can be customised to suit your specific needs, including bespoke dimensions, a choice of colours and specific markings.

Top quality acrobatics!
In 2021, GYMNOVA set its sights on Eurotramp and its world-renowned range of competition trampolines. All the trampolines and DMTs available from GYMNOVA are now supplied by the German brand.
Ever since it was founded over 60 years ago, Eurotramp has forged a reputation around the world for its high-quality products. At its first World Championships in 1972, the German company achieved benchmark status in trampolining circles and began supplying its products to the world's greatest trampolining events, including the World Championships, European Championships and Olympic Games.
Eurotramp develops and markets a wide array of trampolines geared towards every proficiency level, such as trampolines for competitions, training, schools, leisure facilities and therapy centres. The company's range has been designed to fulfil all its users' needs.
Eurotramp's extensive selection means that gymnasts can train and compete on trampolines of the highest quality.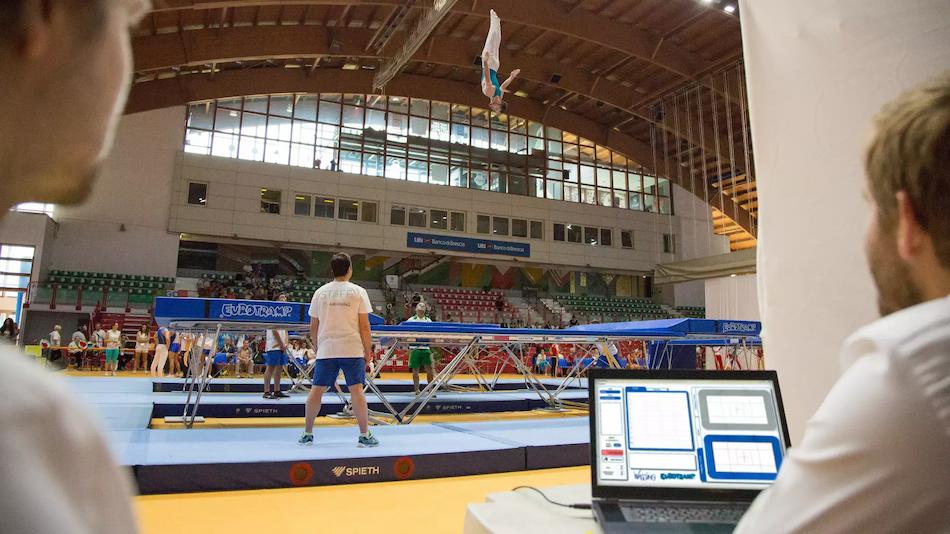 Launched in 2022, the BRICK brand is now distributed by GYMNOVA.
This new range, developed by plotters, has already proved its worth in the world of the big boys by equipping the International Festival of Extreme Sports (FISE) in Montpellier (France) in May 2022.
BRICK aims to provide metal structures and wooden modules for both indoor and outdoor training. Fully modular and clip-on, it adapts to your needs and level.
Wooden modules individually or in kits, tubular structures, fall mats and protections: All BRICK products are of high quality and made in Europe to reduce the environmental impact of the brand.